FoodSaver Kitchen Vacuum Food Storage Containers 44 Quart-sized Bags
Regular price $27.62 Sale

Store Categroy
Helpful Links

Store Newsletter

Hot Products

FoodSaver 44 Quart-sized Bags New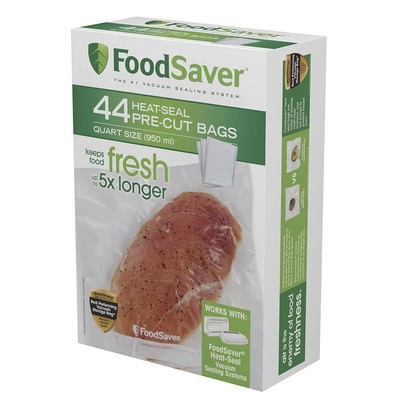 FoodSaver 44 Quart-Sized Bags
Whether portioning food from bulk shopping or storing leftovers after the holidays or a successful soiree, FoodSaver heat-seal bags make it easy to store food with confidence. The 44-count box of quart-size bags works with any FoodSaver heat-seal vacuum sealing system (not included).
Each pre-cut bag measures 8 by 11 inches, offering plenty of room for storing small items or individual portions of food. Store anything from cuts of meat and fish in the freezer to fresh fruits and vegetables in the fridge, even cookies, crackers, and other snacks and dry goods in the pantry. A white panel on the transparent bag allows for writing the date and contents of the food being stored for easy reference later.
Creates an Air-Tight Seal
To use, simply add food to the bag, insert the open end in a FoodSaver heat-seal vacuum sealing system, and the machine takes care of the rest, removing all the air before using heat to create an airtight seal.
Multi-Layer BPA-Free Material
The FoodSaver bags feature a unique multi-layer BPA-free material with ThickShield protection and specially designed channels that allow for the complete removal of air. Removing all of the air from inside the bag and creating an air-tight barrier around foods locks in freshness and effectively prevents stored items from spoiling or getting freezer burned.
In addition to blocking moisture and oxygen that can compromise the freshness of food, the bags' multi-layer construction makes them safe and strong enough for freezing, microwaving, and simmering. Vacuum seal foods prepared ahead of time, then cook and serve without sacrificing freshness.
Keeps Food Fresh up to 5x Longer -- Save up to $2700 a Year
As always, the FoodSaver system keeps your food fresh up to five times longer compared to other storage methods (like zipper bags, foil, plastic wrap and containers) and helps you save up to $2700 a year by buying food in bulk, purchasing on-sale food items, and not having to worry about freezer burn or wasted food.
About the FoodSaver brand
The FoodSaver brand provides a range of vacuum sealing systems and an array of useful accessories like containers, jar sealers, and wine-bottle stoppers as well as pre-cut freezer bags and rolls of bag material for creating custom-size bags. An effective and convenient food-storage solution. The FoodSaver brand not only helps people save time, money, and food, but it also helps keep kitchens running smoothly and efficiently--perfect for busy families or for those who love to entertain.



SHIPPING
PAYMENT
RETURNS
FEEDBACK
CONTACT US
Shipping
We Ship with 

All items will be arranged shipping within 24 hours upon payment cleared.
There is no additional shipping charge for additional items.on most of items.
We do not ship on weekends or holidays.
We only Free ship within United States on most of items.
Express Shipping: We offer Express Shipping via FedEx 2Day, or USPS Express. (Please allowed 1-3 Business Days for Delivery).
Expedited Shipping: We will ship your package via FedEx Express Saver, or USPS Priority Mail (Please allowed 1-4 Business Days for Delivery). Some packaged will required signature (We are not responsible for any delay during weather issues).
Standard Shipping: We will ship your package via FedEx Ground, or USPS First-Class Mail (Please allowed 1-5 Business Days for Delivery, not including Weekend).
Economy Shipping: We will ship your package via FedEx Smart Post (Please allow 3-10 Business Days for Delivery, not including Weekend).
Attention: Alaska, Hawaii, Puerto Rico, Military Base, and PO Box address will only ship with USPS. Some of items will only ship within 48 lower states.
Buyer will receive an email of shipment notification once order is shipped. Email us if you do not get the shipment notification 2 days after payment is made Monday (Excluded Weekend or Holiday). All the payments made after 3PM PST on Friday; your order will be ship out on the following Monday.
Any return / undeliverable address shipment will re-send after communication with buyer. We will notify buyer via email. Buyer is responsible for 2nd attempt of shipping if the mistake was made by buyer. We do not refund shipping charges under any circumstances.