CAMRY Digital Kitchen Scale Compact Diet Food 5KG 11LBS 1g Stainless Steel Bowl
Regular price $18.92 Sale

Store Categroy
Helpful Links

Store Newsletter

Hot Products

CAMRY Digital Kitchen Scale Compact Diet Food 5KG 11LBS 1g Stainless Steel Bowl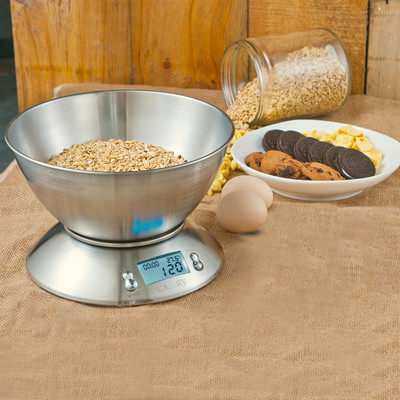 Product Description
Stainless Steel Mixing Bowl:
This scale is designed with a high-quality stainless steel mixing bowl that combines measure, mix and pour all in one.
You can also use your own bowl or plate if you like.
The dishwasher safe mixing bowl removes for quick and easy cleaning. No more mess in the kitchen!
Accuracy
Built with the latest version of sensor technology, the scale offers incredible accuracy. It weighs up to 11 lbs / 5 kgs, with division 0.1 oz / 1g. It has a 2¡¯¡¯ large LCD screen with bright backlight, pretty much easy to read even in dim light.
Built-in Timer
The scale has a built-in timer that counts down from any time up to 99 minutes and 59 seconds. An alarm signals short beeps for 60 times when the time is up, and it¡¯s loud enough to be heard from afar. Press ¡°T-SET¡± to set, start and stop the timer and press the up/down arrows button (same button as Z/T and UNIT) to adjust the time.
Zero / Tare
With this scale you can measure the first ingredient then without emptying the bowl, press the button Z/T, the scale will zero out and you can continue on your second food.
Thermometer
Current room temperature is shown on the higher right corner of the scale display in Centigrade.
Auto-off
This scale comes with 2pcs AAA battery and has an auto shut off feature to save your battery life.
Warranty
Every scale is individually hand tested for defects and accuracy before it leaves the factory.You will find the QC pass tag on each scale.
Items Video
https://www.youtube.com/watch?v=xh66wS-q_pY&list=PL1aMFZxFW7fAxHuOrQLbyJ4sQy0HKJ-Hg&index=2



SHIPPING
PAYMENT
RETURNS
FEEDBACK
CONTACT US
Shipping
We Ship with 

All items will be arranged shipping within 24 hours upon payment cleared.
There is no additional shipping charge for additional items.on most of items.
We do not ship on weekends or holidays.
We only Free ship within United States on most of items.
Express Shipping: We offer Express Shipping via FedEx 2Day, or USPS Express. (Please allowed 1-3 Business Days for Delivery).
Expedited Shipping: We will ship your package via FedEx Express Saver, or USPS Priority Mail (Please allowed 1-4 Business Days for Delivery). Some packaged will required signature (We are not responsible for any delay during weather issues).
Standard Shipping: We will ship your package via FedEx Ground, or USPS First-Class Mail (Please allowed 1-5 Business Days for Delivery, not including Weekend).
Economy Shipping: We will ship your package via FedEx Smart Post (Please allow 3-10 Business Days for Delivery, not including Weekend).
Attention: Alaska, Hawaii, Puerto Rico, Military Base, and PO Box address will only ship with USPS. Some of items will only ship within 48 lower states.
Buyer will receive an email of shipment notification once order is shipped. Email us if you do not get the shipment notification 2 days after payment is made Monday (Excluded Weekend or Holiday). All the payments made after 3PM PST on Friday; your order will be ship out on the following Monday.
Any return / undeliverable address shipment will re-send after communication with buyer. We will notify buyer via email. Buyer is responsible for 2nd attempt of shipping if the mistake was made by buyer. We do not refund shipping charges under any circumstances.


---
On May-12-16 at 20:03:08 PDT, seller added the following information: